X
Marrngu lived and worked in shifting mining camps set up across a wide area of the Pilbara, with both men and women engaging in mining.
Men Mining at Gorge Creek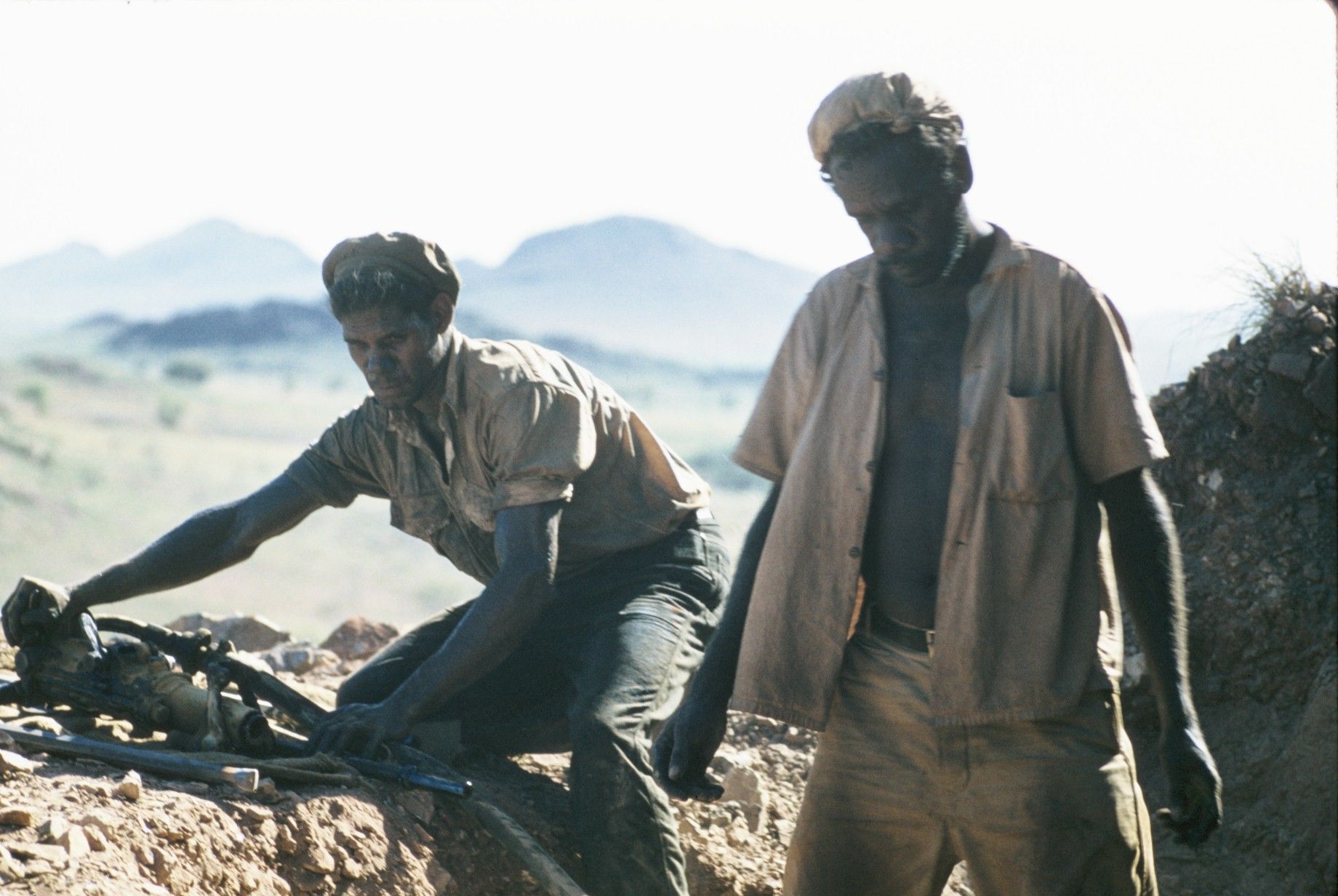 Citation
Photo by John Wilson.
The Western Australian Government's cautious support for the movement gave rise to conflict with pastoralists, who were used to having their labour needs prioritised by the Department of Native Affairs.
Native-Labour Drift Worries Pastoralists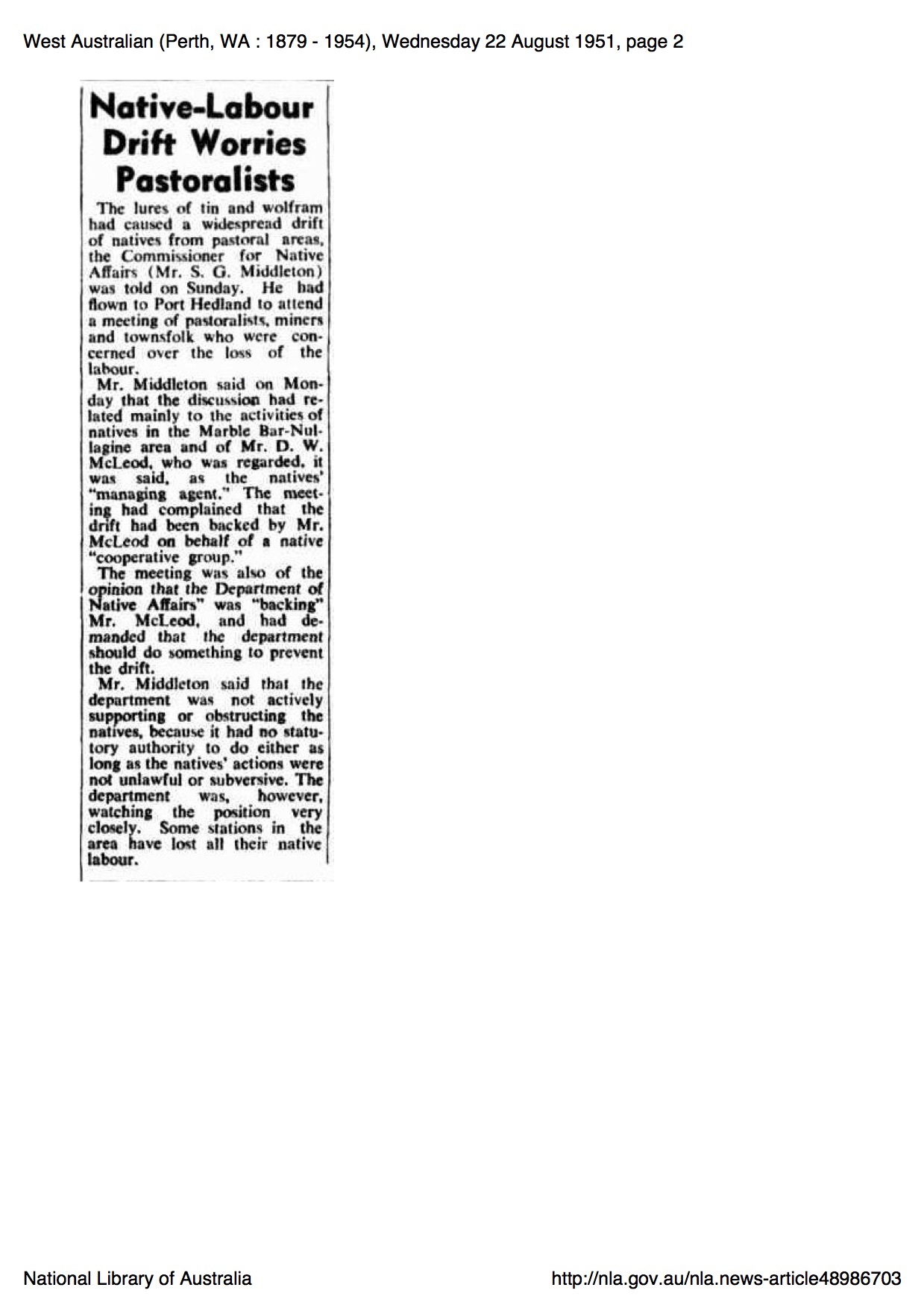 Citation
West Australian, 22 August 1951, p. 2, 'Native-Labour Drift Worries Pastoralists.'
Among those who left stations at this time was a dynamic woman called Daisy Bindi, who led almost a hundred people into the cooperative from Roy Hill station in early 1952, after their negotiations with station management had failed to achieve the improvements in wages and conditions they were seeking.
Daisy Bindi Leads People from Roy Hill Station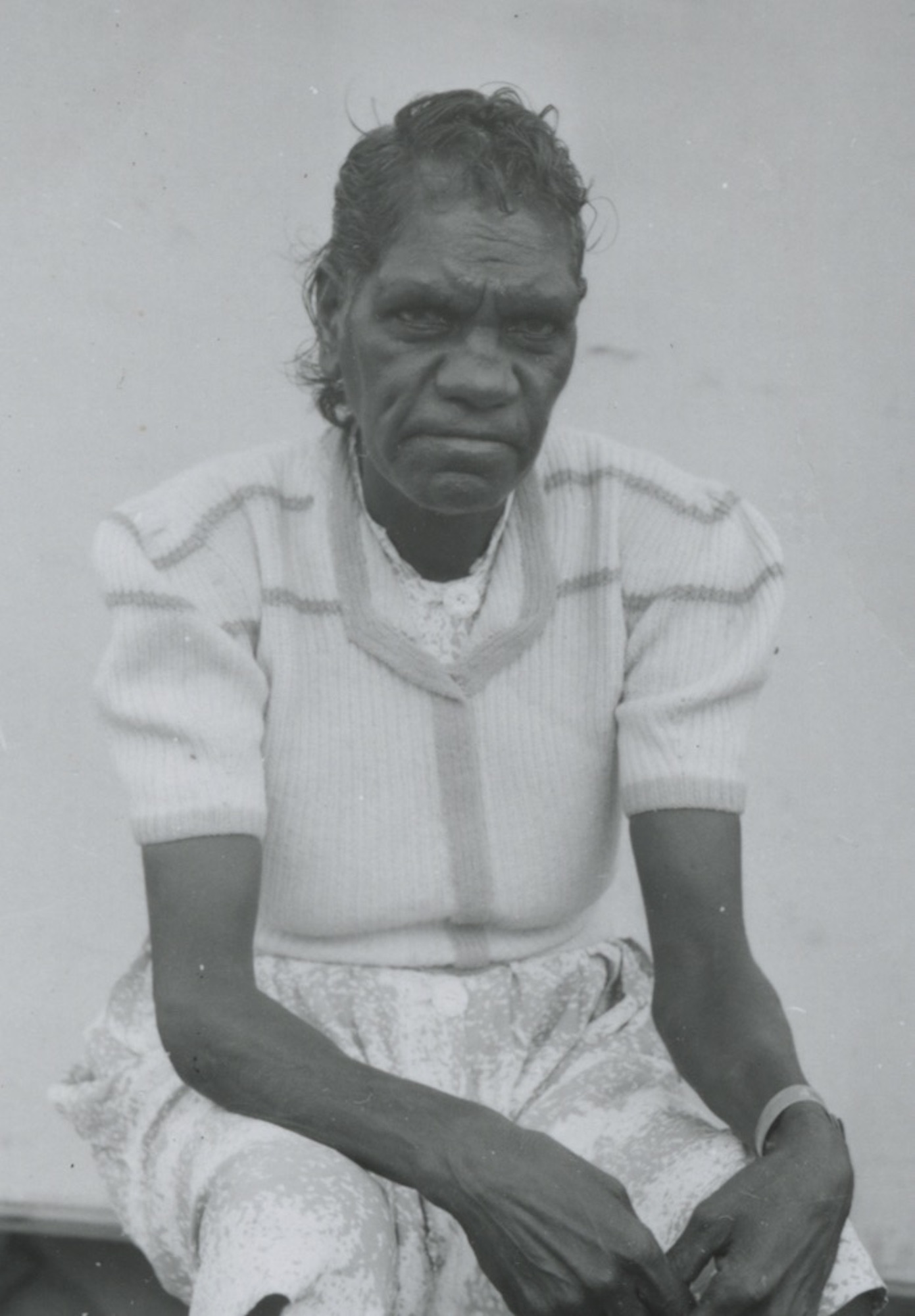 Citation
South Australian Museum, AA346-4-22-1 Pilgangoora R514.
An effective social organisation was established, with systems for decision-making and dispute resolution. The organisation had to work as an economic unit as well as being socially and culturally satisfying to its members. Camp committees and women's committees were established. Yandeyarra was run by Peter Coppin and a women's committee, photographed in October 1953 by Bill Rourke.
Committee Women and Peter Coppin at Yandeyarra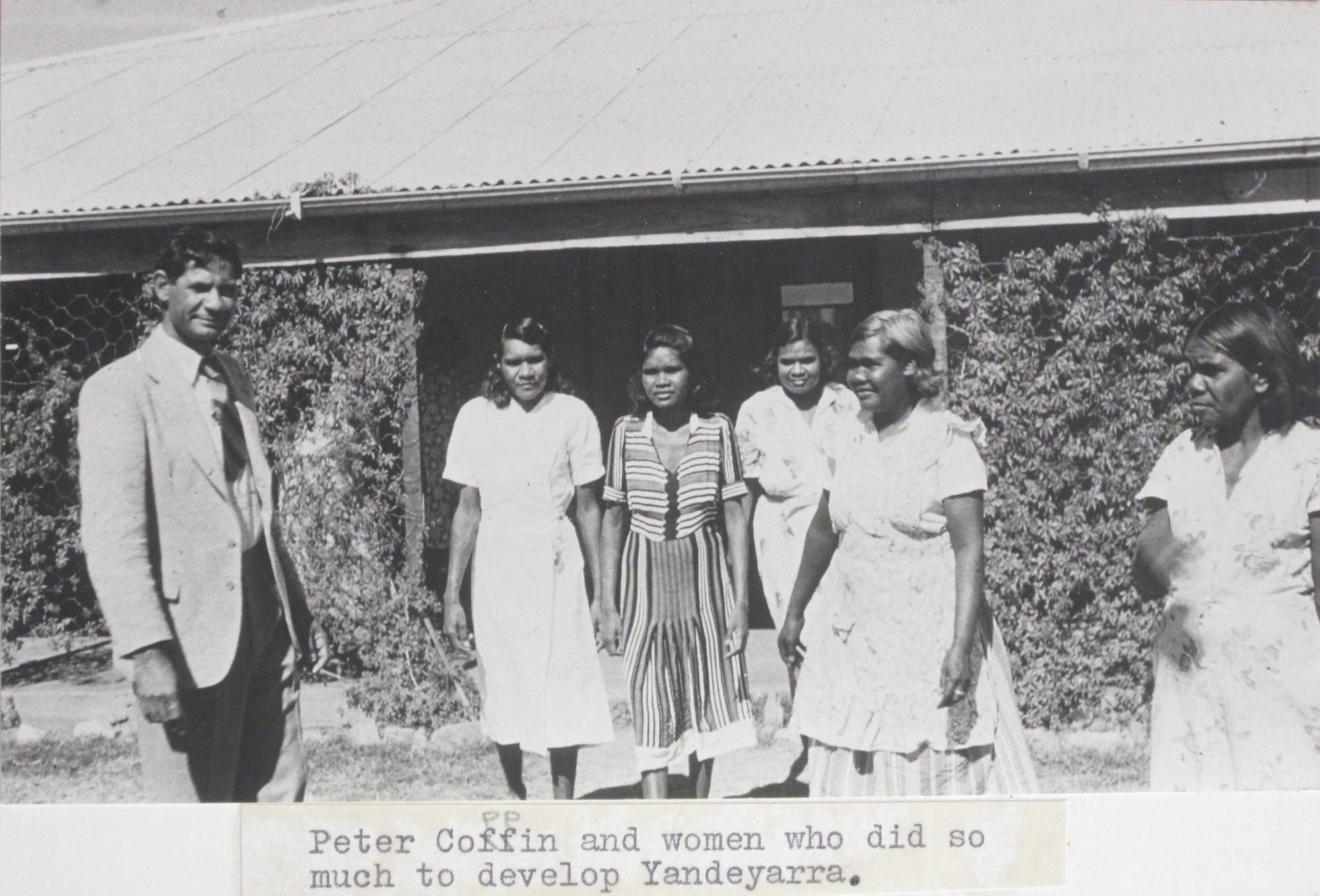 Citation
State Library of Western Australia, from a collection of photographs used by W.H. Rourke in his book My Way, BA729 (Albums).
Sam Fullbrook built a studio at the cooperative's mining camp at Pilgangoora Bore, and recorded his experiences in paintings.
Pilbara Painting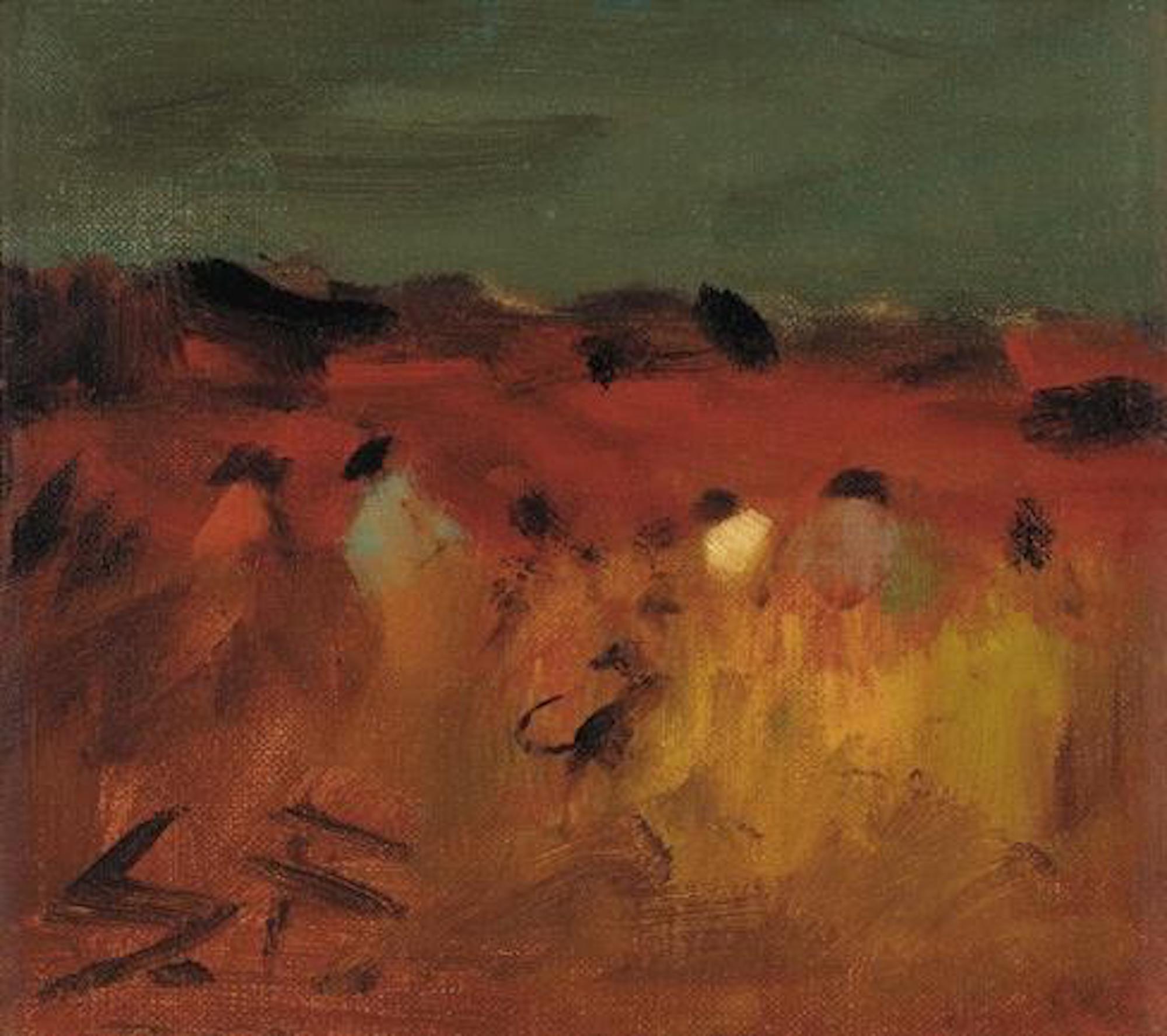 Citation
Pilbara painting by Sam Fullbrook.
The Department of Education's Inspector of Education also strongly recommended that a school be established at Yandeyarra. However, the financial collapse of NODOM in 1954 led to the Department abandoning this plan, to the great disappointment of the community.
Department of Education Report on Visit to Yandeyarra Station
Citation
William H. Rourke, Report on Visit to Yandeyarra Station, 3 November 1953, SROWA, 1952/0535/22-26.
When NODOM went into liquidation, the group was unable to market its minerals or buy food. Many marrngu left the group. Some remained, however, surviving through what became known as the starvation time. This is remembered by Munda Woodman, who was a child at the time. Munda Woodman and Ron (Rinti) Hale were children attending school at Yandeyarra in 1953. Children were cared for by Massey Chillawarra and his wife Lily, who took children to a remote pool to live off the land.
Munda Woodman and Ron Hale, Starvation Time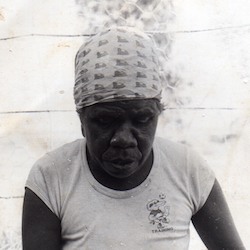 Transcript
Munda: Starting school then, Massey and his old wife, they were the boss for us, and all the boys [Munda is unable to say the name of her classificatory son-in-law, and asks her husband Ron Hale (Rindy) to say the name].
Ron: Paddy Yaparla
Munda: Mm. He's the boss for the boys, big boys. Then we starting bit of school, you know, we starting.
Ron: Max Brown, his wife, Kathy.
Munda: Kathy Brown. Max Brown and Kathy. That's one of his wife.
Ron: Then we went, we bin biggest starvation then.
Munda: Yeah, we bin starvation for tucker that time.
Ron: We split up, finish school
Munda: Then we split up. Massey took us down to the Elephant Camp. Elephant camp, from Yandeyarra. That river called Elephant Camp. We were staying out there then. We had no flour, no sugar, no tea, we used to hunt for honey. Old people would hunt for honey, put it in the water, mix it with the water, make it sweet. Live on kangaroo, just water. Then after later one of them Welfare blokes was helping us with food then. We bin just starving for I don't know how long, three or four months, I think. That welfare bloke was helping us then, bringing the food for us, you know, flour and sugar. Harvey Tilbrook or one of them Welfare blokes. Help us for food, you know. Bring a little bit of food for the old — for the old people and kids.
Citation
Audio: Munda Woodman and Ron Hale (Rinti), recorded by Anne Scrimgeour, Mijijimaya, 26 June 1993, Australian Institute of Aboriginal and Torres Strait Islander Studies Library.
Photo: Munda Woodman, Mijijimaya c. 1990, Anne Scrimgeour.
This photograph shows Mitchell, Middleton and other members of the group with a truck that was purchased by the Department for the Pilbara Native Society. Middleton's willingness to assist marrngu as a group rather than on an individual or nuclear family basis is a measure of the authority they had established. The Department went to considerable cost, purchasing not only this vehicle but mining equipment and Riverdale Station for the Society.
Department Purchases Vehicle for Pilbara Native Society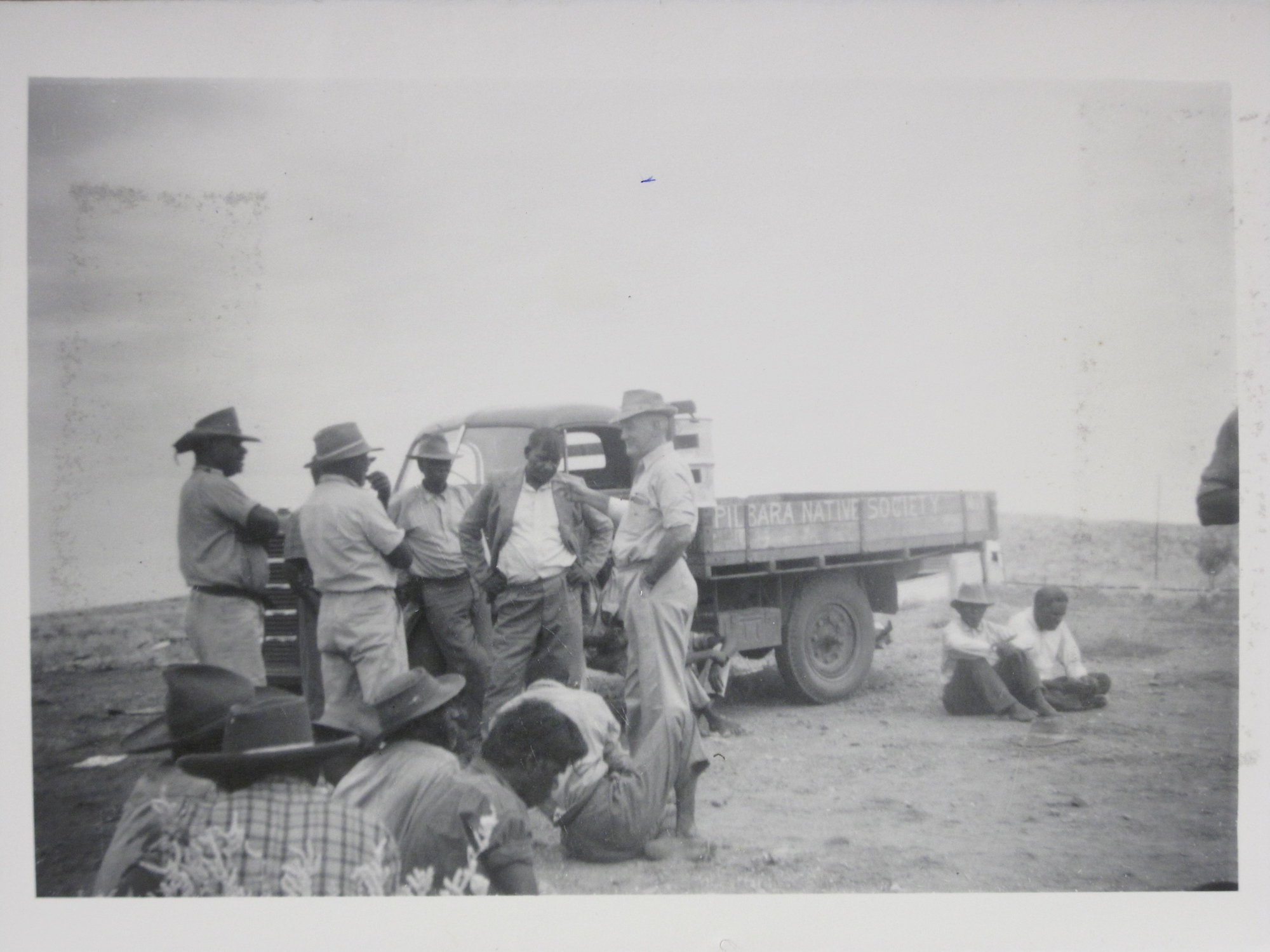 Citation
Pilbara Native Society group photo, State Library of Western Australia, BA368/6.
Marrngu initially elected to work with both men, but Middleton refused to involve his department in any arrangement that included McLeod. This account of the events, written by McLeod and distributed on the Fremantle waterfront, has been annotated by Middleton, who underlined in red any statement he considered false or incorrect.
McLeod Statement on Struggle to Manage Group's Affairs
Citation
Don McLeod, Statement, 29 May 1955, annotated by Stan Middleton, SROWA, 1954/0204/91-96.
The group and the government had established a good working relationship in the early years of the 1950s, but this relationship deteriorated badly in the latter half of the decade. This photograph shows Pindan men in Perth to attend court for a libel case they took against the Australian Broadcasting Commission and Commissioner for Native Welfare Middleton.
Pindan Men in Perth for Libel Case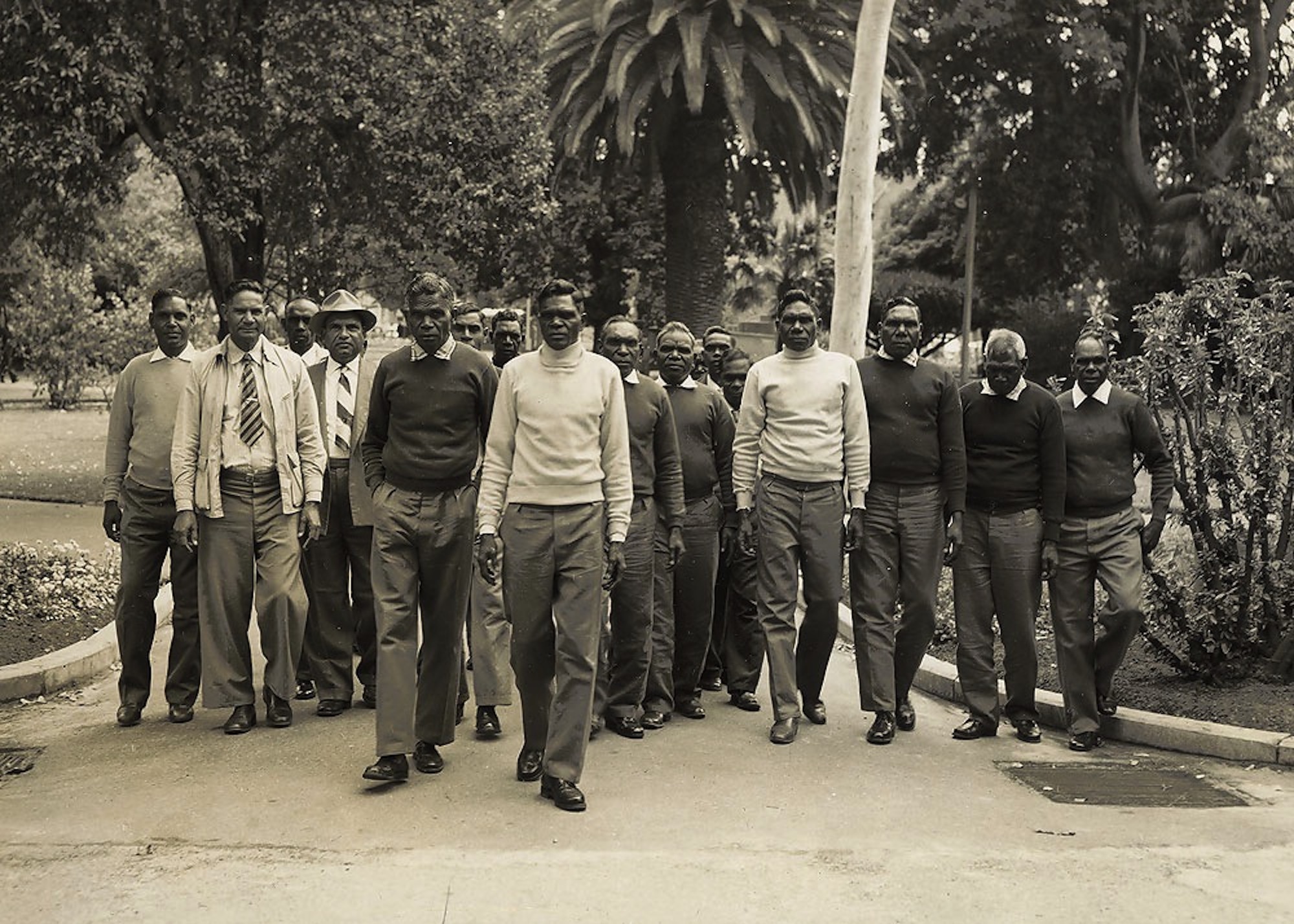 Citation
Photo from West Australian, 20 October 1958.
Autonomy and self-reliance remained a keynote of the group's ideals.
Pearl Shelling Camp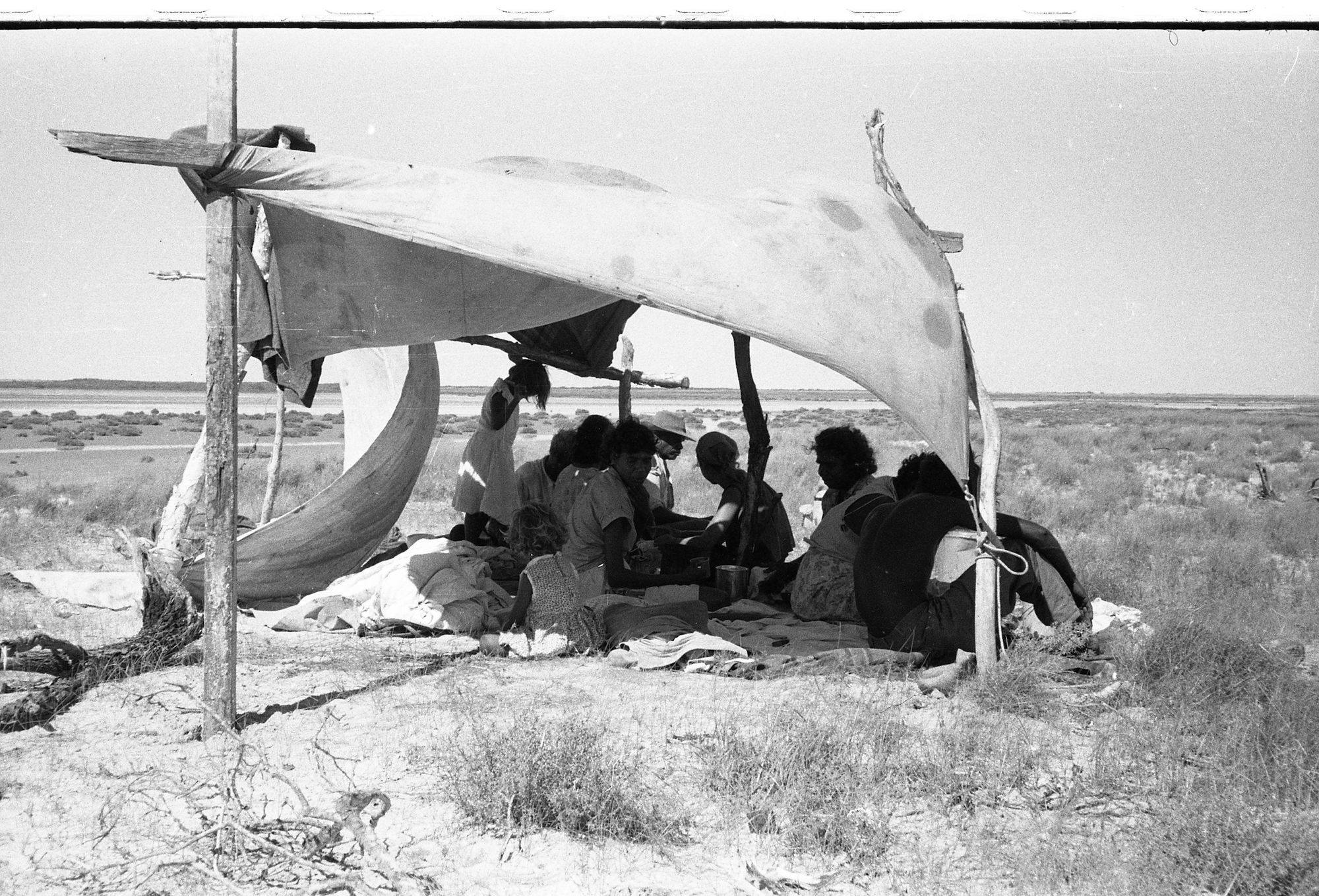 Citation
Pindan shelling camp, photo by John Wilson.
Pindan continued to work in mining and eventually regained Yandeyarra station. This is a photograph of Pindan's shareholders, including Ernie Mitchell and his wife, Lucy, on the right.
Pindan Shareholders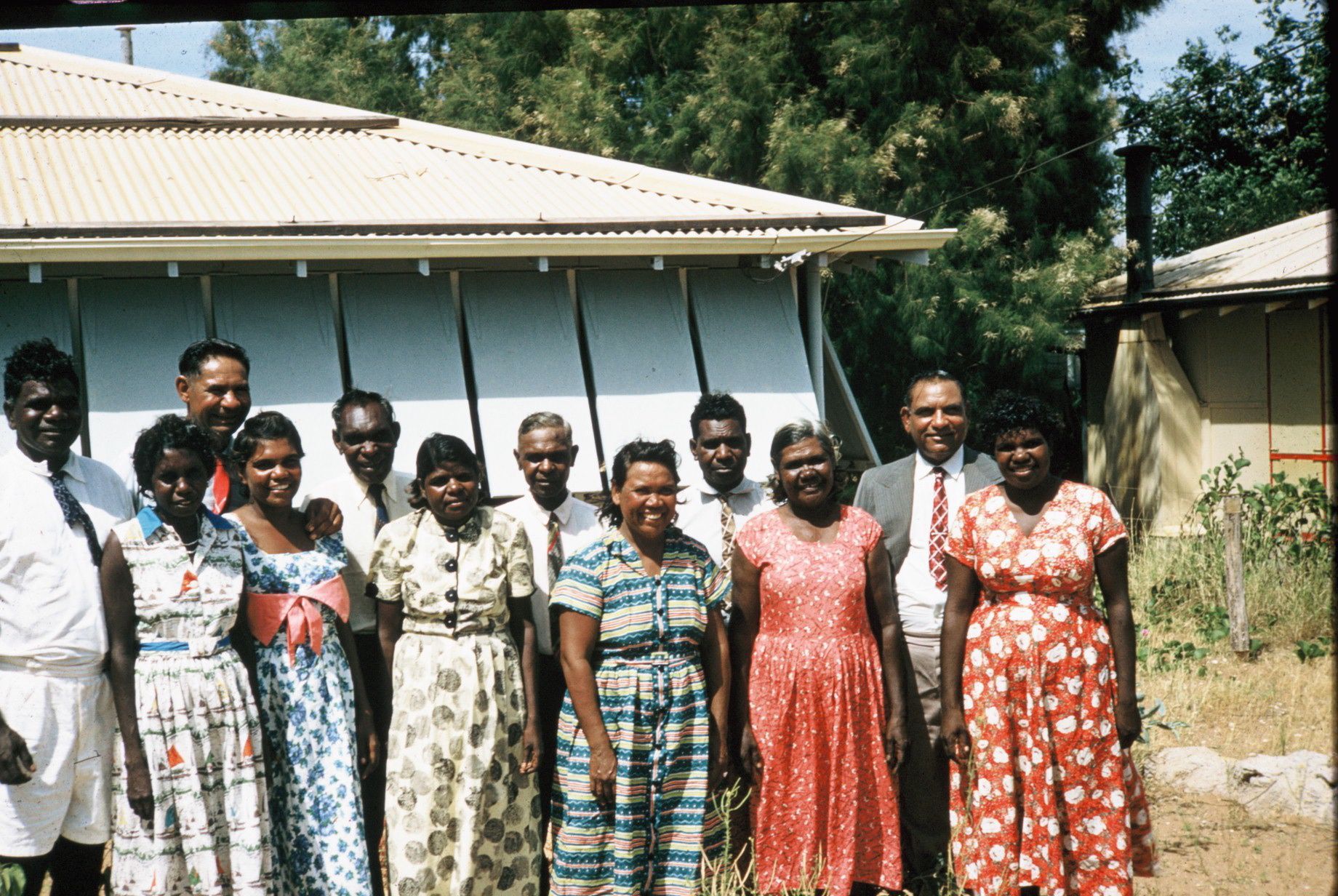 Citation
Photo by John Wilson.
In the 1950s the men and women who had engaged in the strike became less concerned about employment conditions on stations and focused instead on establishing themselves as a socially and economically independent community. They engaged principally and most successfully in mining, but also in seed collection and dry-shelling. For a time, they enjoyed remarkable financial success and prosperity, and at other times they endured hardship and poverty. Their relationship with government also fluctuated, from good-will and cooperation in some years, to opposition and conflict in others. At one point, 700 people, most of the Aboriginal population of the region, were involved in the movement; at other times numbers dropped below 200. What they achieved throughout these shifts in fortune was the right to exist and make decisions as a group, to have their authority as a group respected by others, to select their own leaders and representatives, and to live their lives with dignity and in accordance with Aboriginal cultural beliefs.
Mining
Autonomy
Financial Collapse
Pindan