The decision to choose McLeod to manage their affairs rather than Middleton was a reflection of the high regard that marrngu had for McLeod and his willingness to stand up for them and stand by them over many years. This was expressed by Billy Thomas (Pitpit) in 1993.
Billy Thomas, Starve With Us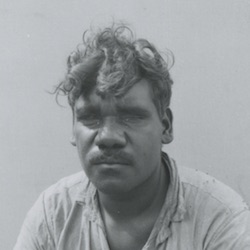 Transcript
In that struggle now, we used to work pretty hard, no tucker, we used to carry kangaroo, or bush tucker something, you know. Fruit, honey, water, pigmelon might be, that's all we was living on. And we used to walk and carry all our tools too. But we keep working seven days a week to try to make a bit of money for tucker, you know. And old Don had his old truck, V8 truck, and bit of money belong to him too, I think. But we use all that money belong to him, we looking out for a little bit money to try to help him along to try the keep that truck going to cart. He bin working seven days a week running from Nullagine to Port Hedland, right back to all the mining places where people bin working. Non-stop. That's why old fella get weary I think. He's a pretty hard man. And old fellas give us a meeting in camp, tell us we got to go off the station, and this fella got to help us. But anybody don't break out, we got to all stick together, back him up to try to get something for us. That's what happened. Don wasn't wanted to do this, 'cause he reckon he going to go against his law. But the people they want to do this. From that time, when he start walking off with the people, and he living with the people like how we bin living, eating water and bloody, you know, meat, water, and some bush tucker, that's all he bin living. He don't be like that too, poor fella, no shoes, he bin–, like that. He starve with us, fight with us, stay with us. Anyhow Don done a great thing for the people, but people don't look at that.
Citation
Audio: Billy Thomas (Pitpit), tape 1, recorded by Anne Scrimgeour, Warralong, 6 October 1993, soundfile Pitpit 2A, Australian Institute of Aboriginal and Torres Strait Islander Studies Library.
Photo: Billy Thomas (Pitpit), Board of Anthropological Research, South Australian Museum, AA346/4/22/1 Marble Bar R352.