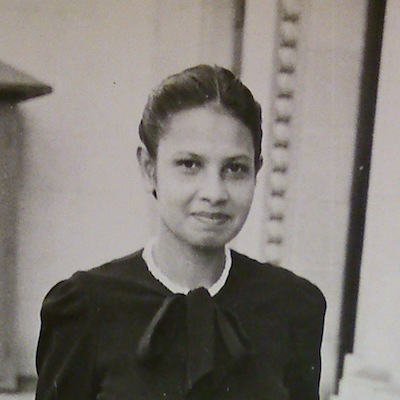 Des (or Dessie) Stuart
Des Stuart was born Dulcie Eunice Singh in 1920 to Indo-Fijian parents in Fiji. Her father was a Seventh Day Adventist missionary. Little is known of her early life. She seems to have been raised, at least in part, by Anglo Seventh Day Adventist missionaries in Fiji, and was certainly educated by them. She arrived in Melbourne, just before her eighteenth birthday under Seventh Day Adventist sponsorship, to train as a nurse, and stayed on to gain qualifications in midwifery, before falling ill with tuberculosis. She married writer Donald Stuart and moved to Perth, where she worked in a boy's home for the Department of Native Affairs during 1952. That year she challenged the West Australian newspaper to publish a series of articles which she claimed to have written but which were almost certainly written by Commissioner for Native Affairs Stan Middleton. The articles were published under the heading 'Not Slaves - Not Citizens' with the byline 'prepared by natives and written by a native'. In early 1953 Des joined her husband in the Pilbara, becoming one of a number of non-Aboriginal people who joined the cooperative that year.
While Donald Stuart worked with marrngu to establish a garden at Yandeyarra, Des travelled around the scattered mining camps to provide medical attention and to train women in first aid. With 700 people in the group this in itself was a fulltime job. She also taught dressmaking. She also took on a leadership role within the group, joining Don McLeod, Ernie Mitchell and Peter Coppin as the fourth member of the organisation's Top Committee. Her primary leadership task seems to have been to assist women to take more prominent roles in the organization, or, as McLeod wrote, 'bringing the women forward quickly so that they can manage their own affairs'. She worked with the women's committees that had been established in each camp prior to her arrival, ran their meetings and, within weeks of her arrival, even selected women to serve on them.
The Stuarts' marriage broke down during 1953. When Donald and other non-Aboriginal people were asked to leave the cooperative at the end of the year, Des refused to accompany her husband back to Perth, feeling that the cooperative was where she belonged. She remained with the group throughout the difficult year of 1954, staying on after McLeod shifted to Perth. In early 1955, however, she again developed tuberculosis and left the Pilbara. She spent some time in Darwin before moving to London, where she hoped that new medical discoveries would enable her to receive successful treatment. She never returned to Australia.