The calendars that were prepared to help the marrngu know the day upon which they were to strike can be regarded as part of the story-telling as it would have helped them to imagine and thus enact the strike.
Cranky Iti, Calendars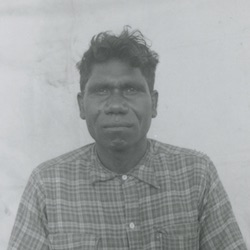 Transcript
Mirlimirli now yinyapulunganarnaku ngapilu, Clancy-lupa Dooley-lupa, Dooley Bin Bin and Clancy palalujirri. Card now wupartu yinyapulunganaku mirlimirli, strike pala now jinikinyiyirni … Palanga waninyiyirni pala now yinyapulunganinyi mirlimirli, mirlimirli yinyapulunganinya strike-jarrinyaku. Waninyirni warrkamjarrinyiyirni, number pala day, karrpu pala scratch'm-jinikinyiyirni yamanikinyiyirni.
Translation
They gave us the paper now, Clancy and Dooley, those two. They gave us a small card, a paper, and now we were going on strike … While we were living there they gave us calendars in order to go on strike. We continued working, counting the days by crossing them off, day by day.
Citation
Photo: Cranky Iti (Kujupurra), Board of Anthropological Research, South Australian Museum, AA346/4/22/1 Marble Bar R356.