In this recording, Billy Thomas (Pitpit) speaks to school children in Nyangumarta about the beginnings of the strike.
Billy Thomas, Early Discussions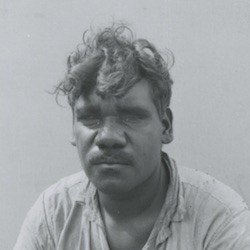 Transcript
Mirta nyungu, Ngarnka, when he. warrkam-bloke again yanikinyi warrkam well sinker really, or miner. Wani-waninyi, well warrkamujarrikinyi last one, last one kuwarri now, kuwarri-kuwarrimarta ngapingi Bonney Downs-ja wanikinyi, ngapi Wallareenya well-maya karlikinyi, kalkunikinyijaninyi palarrangu now mantarnimalingu, kakarni Kurlkunyja milpanyikinyiya karangu Bonney Downs mob. Bonney Downs-mili winmal pala karlikinyiyi. Wani-waninyiyi yartikarra-yartikarra turrpajarrinyiyi japirrmarnaya wurrarnirnarninyalu wunyjurrujajapa. Wurrarnayarninyili wunyjurru kalkunikinyiyijaninyi Walypilalu walangkarrangukurra. Kuwarri-kuwarrimarta nganarnanga partanykarrangupa nganarnakupa pala kalkunukawarniyinganinyi nganarna nyirrirnikartija. But jipijirniyirnijanaka punyjalu, let them wunyjurru nyungu kalkurnayinganinyi. Mirta ngapipa yinganyayinganinya, pingkayi go station-ja finish'm you know. Pingkayi yanikinyiyirni strike time jinangu, jinangu. He want'm back palangarra karrpungu time might kujarranga week-ngi. He want'm back warrkamkarti jinangu. Marrngu puji wanikinyiyi palanga punyja pala week-jirri miss'm kunymanakata ngakanikinyinganaka policeman-ju hunt'm out go back station-karti warrkamkarti. Jinangu again we'll go back. They get sick of it palanmartaku.
Translation
The old man, Ngarnka (Don McLeod), when he was a working man, he went around working as a well-sinker really, or a miner. He was living and working at the last place there, in Bonney Downs, and he was digging the Walareenya well. He had with him all those Milangka men, my classificatory fathers, who had come from Noreena Downs in the east, and from Bonney Downs in the west. They were digging that well on the Bonney Downs boundary. They lived there, and after a while they became confident enough to talk to him, and they talked together about how this had come about. They talked to each other about how the walypila used to treat them in the old days. And when we were kids, even recently, how they were still treating us even then, us who were coming along after them. But we had already been doing enough of that for them. For a long time we had been letting them treat us how they liked. They had not been giving us anything. We used to go on holiday from the station, we would go off for a holiday on foot. Then on the day they wanted us back, maybe after a couple of weeks, he would want us to come back to work on foot. If people stayed away for longer than two weeks, he would send the police out after us. The police would then hunt us back to work on the station. So then we'd go back on foot. They got sick of all this kind of thing.
Citation
Audio: Billy Thomas (Pitpit), recorded in Nyangumarta by Anne Scrimgeour, Skull Springs, 21 September 1991, transcribed and translated by Barbara Hale and Mark Clendon, Australian Institute of Aboriginal and Torres Strait Islander Studies Library.
Photo: Billy Thomas (Pitpit), Board of Anthropological Research, South Australian Museum, AA346/4/22/1 Marble Bar R352.